There's no denying that plastic is widely needed and used in the modern age, but recent figures* have shown that an overwhelming 72% of plastic packaging produced worldwide goes unrecovered.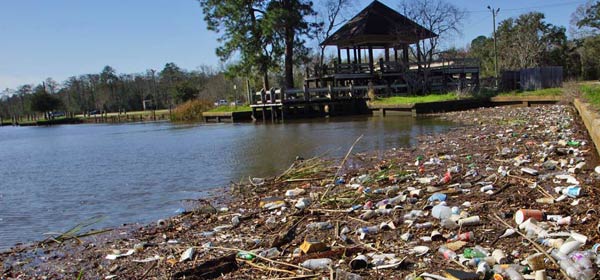 32%* of unrecovered plastic waste is discarded into wider environments, such as the ocean
With the environment in mind, it is crucial that we take any steps necessary to ensure that plastic is properly disposed of. Keep reading to find out the answers to your frequently asked questions about how you can play your part in minimizing plastic waste.
FAQ - Why do we use plastic?
Plastic comes in many different shapes and sizes, be it plastic bottles, plastic containers, plastic straws or plastic bags. There are many benefits to using this cost-effective material – it's strong, durable and lightweight in nature, and can be easily shaped and molded, meaning that plastic is a commonly used item worldwide.
Getting the disposal of this material right, however, is essential in safeguarding the future of our planet and its environment.
FAQ - What can I do to minimize plastic waste?
Minimizing the use of single-use plastics such as straws and bottles can be a great way of reducing plastic waste.
In the US alone, up to 500 million drinking straws are used on a daily basis**. These plastic straws are often made from a recyclable polymer, #5 (PP), but are not widely accepted within recycling programs due to size constraints. This often

results in them being sent straight to landfill or discarded into the ocean.
You can find out more about the different types of plastic and each corresponding RIC with our easy guide to plastic recycling symbols, here.
By simply using alternatives such as compostable or metal straws, or forgoing the straw altogether, the amount of plastic waste that is generated could be reduced.
FAQ - How can I recycle plastic?
Installing plastic recycling bins can be a great way of encouraging others to dispose of their plastic waste correctly, keeping it out of landfill and from damaging the environment.
Some plastics may not be widely accepted in recycling programs due to contamination from chemicals such as dyes, ink or glue. Gift cards and plastic toys often fall under this umbrella, and so should be saved for reuse wherever possible.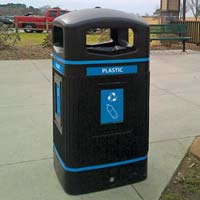 Certain states also have container deposit laws, known as bottle bills. This means that every beverage container bought requires a deposit to be paid, which is refunded once it has been returned for recycling.
Find out if your state currently has a container deposit law by visiting the bottle bill website.
Remember, always check the recycling labels before placing your plastics into a trash can. You can also refer to your local city's recycling rules if you are still unsure.
Although some plastic items may not be widely accepted in curbside recycling programs, there may still be recycling opportunities available.
Plastic bags, for example, can be recycled at participating grocery or retail stores. We partnered with Food Lion to create a recycling station for customers, which included plastic film recycling bins to allow customers to recycle their used plastic bags and protect the environment.
Find out more about how to reduce plastic bag waste.
FAQ - How can I reuse and repurpose plastic?
Many different forms of plastic can be saved from the trash can and kept for reuse.

Empty containers can be sufficiently cleaned and rinsed, ready to be reused as storage containers, or decorated and passed on as gift boxes.
For any spare plastic cups or pots, why not personalize them and use them to hold flowers or potpourri, or fill them with soil and use them to grow your potted garden plants.
If you have any items such as plastic sunglasses or car seats that you no longer require, why not pass them on to a family member or friend, or donate them to a local charity shop, to save them from the garbage.
As concerns surrounding plastic waste are rising, many manufacturers are aiming to do their part to reuse plastic and reduce the amount of virgin plastics used to create products.
Adidas teamed up with Parley to turn the problem of ocean plastic waste into a solution. Together they have created a sportswear range using ocean plastics, instead of new virgin plastic materials. This eco-innovation helps minimize the amount of plastic entering landfill or damaging marine-life whilst also contributing to a circular economy.
FAQ - What else can I do to help minimize plastic waste?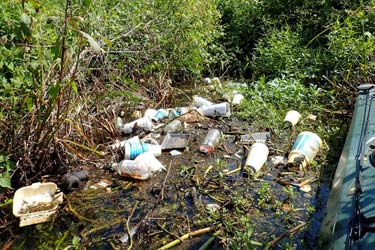 If you're recycling, reusing and repurposing plastic, but still feel like you want to do more to help, why not get involved in environmental clean ups?
Many charities and organizations host events such as beach clean ups, where members of the public are encouraged to come along and pick up litter from the surrounding areas.
This is a great way of getting involved in actively reducing the amount of waste that is found in our local environment.
FAQ - How do Glasdon consider plastic waste and the environment?
At Glasdon, we are passionate about the environment and value sustainability at the core of everything that we do. Wherever possible, we design our products using recycled and recyclable materials, including plastic.
Durapol™, a durable and strong polymer is just one example of this, and is a commonly used material for our trash and recycling containers, including the Canyon™ Trash Can (made from Durapol containing a minimum of 20% recycled material).
Our products are also recyclable at the end of their long service life, meaning that we can help contribute to a more sustainable environment for the future.
Always remember to remove any personalization decals before recycling Glasdon products.
For more information on the plastic recycling containers we offer, or the sustainable materials that we use, please feel free to browse our website or contact us today!
Email us inquiries@glasdon.com
Call us on Toll Free on 1-855-874-5273
LiveChat with us on our website
Sources:
*http://www3.weforum.org/docs/WEF_The_New_Plastics_Economy.pdf
**https://www.strawlessocean.org/institution/
***http://advances.sciencemag.org/content/advances/3/7/e1700782/F3.large.jpg