A look into how we offer advanced levels of personalization to help our customers turn powerful messages into positive action within their organization.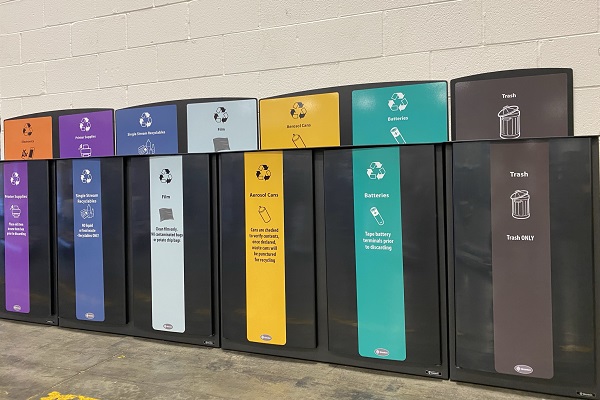 At Glasdon, we know that responsible waste management and recycling is critical to the environment, and recycling programs will need to adapt over time. This is why we are proudly confident in our ability to offer our customers the opportunities to create, design, and shape their waste management solutions to their requirements.
The inclusion of a logo, slogan, color change, brand name, mission statement, or just a simple evocative message to invoke a positive reaction can transform a simple waste solution into an invaluable ally within a recycling program.
It is the ideal way to convey a green message and the perfect way to encourage the use of the unit, and therefore increase recycling efforts within the organization.
How Can Product Personalization be used to Improve Recycling?
Whilst personalization is the ideal way to advertise or extend the organization's brand identity, it can also prove to be an effective means to increase the use of the product and convey a clear and concise message of the organization's environmental efforts or intentions. This can in turn improve recycling efforts within an organization by creating a core principle to reduce their negative environmental impact.
The inclusion of a waste management solution that is attractive, bright, informative, and engaging to use can offer a much more user-friendly experience and encourage correct recycling. Signifying what exactly can and can't be recycled instantly helps users and most importantly reduces and can even eliminate the cross-contamination of recyclable waste.
With Net-Zero targets in the minds of many, now more than ever is the perfect time to demonstrate green intentions. The introduction of a personalized product is a great way to raise awareness and contribute toward zero carbon emissions on the Net-Zero journey.

A prime example would be to include a powerful message, statement, facts or figures that will help encourage a reduce, reuse and recycle motive. Another idea would be to include unique graphics of designated waste streams that can be easily identified by the users. Below we have listed some key components that can be included or adapted to enhance an organization's environmental efforts and help meet Net Zero targets.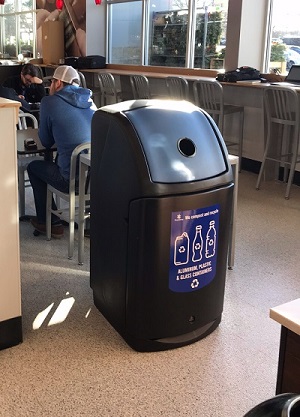 Waste Stream Graphics
Creating and implementing your own unique waste graphics combined with brand colors and original fonts can carve out a clear message for how your organization is going to recycle. We recommend opting for something recognizable and identifiable to ensure users know instantly where and which waste they can deposit.
Logos
Adding the organization's logo is a simple way to build a sense of ownership and commitment to a waste management program.
Color Schemes
If our wide range of standard colors aren't quite what you are looking for, we offer the option to choose many of our products in a variety of non-standard colors - which is a great way to coordinate with a brand identity or internal color scheme.
Full Body Graphics & Wraparounds
A truly impactful way of making your recycling bin stand out, encourage use, and improve recycling efforts. Completely change the look and feel while boosting the purpose of the unit through a full-body vinyl wrap.
Polycarbonate Plaques, Poster Frame Kits & Sign Kits
Another way to personalize is to utilize the optional signage options available on many of our litter bins and recycling stations. Polycarbonate plaques, poster frame kits, and rear fixed sign kits all offer the opportunity to add graphics, logos, messaging, and more to really boost the visibility of your scheme or advertisement.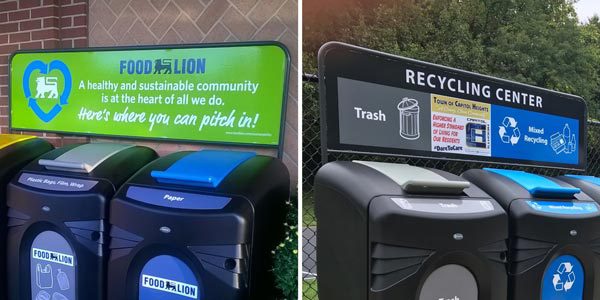 Looking to create something completely unique? Talk to us today.
Achieving a Goal Through Personalization
Creating environmental products with the opportunity for personalization in mind is often at the forefront of our design process. Because of this, we offer a vast array of solutions that feature areas that can be personalized with graphics or signage.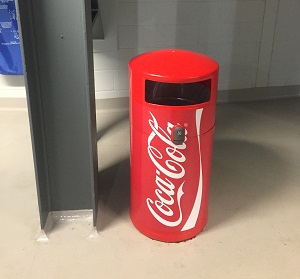 Paper Recycling Containers
Battery Recycling Containers
Confidential Waste Containers
Food Waste Containers
Plastic & Can Recycling Containers
Water Safety Equipment
The majority of our products can be ordered with standard options such as different colored body, apertures, waste graphics, or the addition of sign kits. On the other hand, if you're looking for something a bit different, a large selection of our products can be taken one step further. All that's required is your imagination.
From highly customizable indoor recycling bins like the Nexus® Transform Recycling Station and the Nexus® Style Recycling Stations, to more unconventionally personalized items like our C-Thru™ Recycling Collection Tubes and the Guardian™ Lifebuoy Housing, there is something for everyone to personalize, here at Glasdon.
We also offer a free visualization service where our in-house graphics team are on hand to prepare a visual of your desired product with chosen personalization.
To learn more, take a look at our quick and handy guide to Personalization and Branding with Glasdon.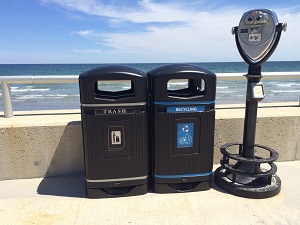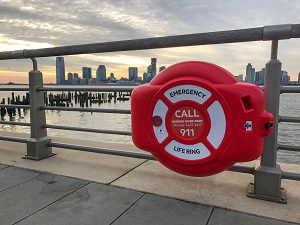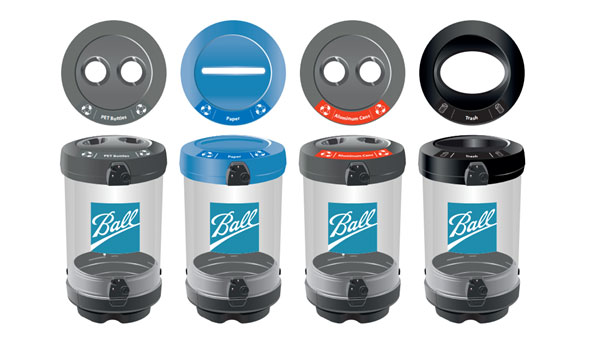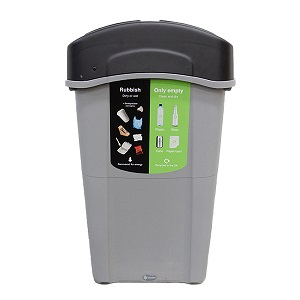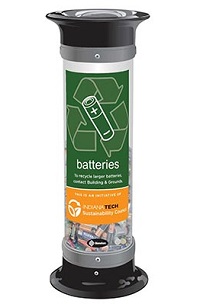 Wednesday, October 5, 2022