Located on the banks of the majestic Hudson River, Yonkers is the fourth largest City in New York State, and the largest in Westchester County...and it's fair to say this city is no stranger when it comes to innovation.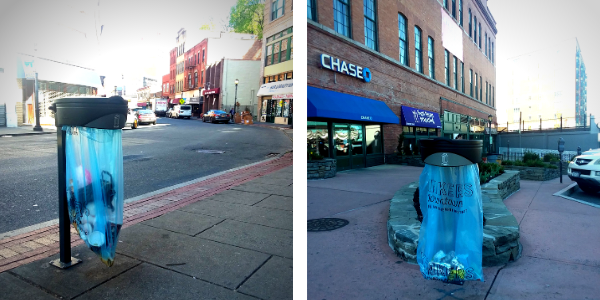 Yonkers has proven to be a popular residential suburb of New York City, and a diverse area where both industries and families can thrive.
However, like any populous area, significant amounts of trash are an inevitable by-product – and the need for appropriate, dynamic solutions to garbage becomes an ever-more prevalent issue.
Introducing the Glasdon™ Orbit Trash Bag Holder...

When it came to protecting the charm and individuality of Yonker's many neighborhoods, the Glasdon Orbit™ Trash Bag Holder ticked a whole lot of boxes.
A busy, metropolitan city is likely to be short on space, so a trash can that has a sleek and streamlined footprint is always going to be a winner.
The lightweight, modestly sized Orbit Trash Bag Holder is perfect on these fronts...but don't go thinking that that this trash receptacle is style over substance.
Despite an overall weight of just 5lbs (including lid), Orbit has a variable holding capacity, dependent on bag size, and most certainly holds its own in terms of toughness and durability. Not convinced? Take a look for yourself:
What else can you expect from the Orbit Trash Bag Holder?
This contemporary unit is well-suited to a large range of environments, from sidewalks and travel hubs, to theme parks and schools (and a whole lot in between!)
Fixing points which offer the choice of wall, or post mounting options
An integrally moulded hinge allows this trash receptacle to be easily accessible, as well as offering protection from poor weather
Orbit is also available without a lid, making this trash can even more accessible and convenient for passers by
Anti-flyposting and anti-graffiti features
'Trash-it' symbol in gold, silver or white