Glasdon, Inc. have recently launched a new range of Express Products, offering fast shipping across the U.S*. But what exactly does this mean for our customers? Read on for all you need to know:
What is an Express Glasdon Product?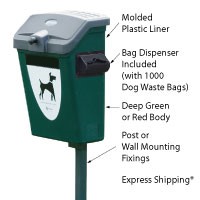 An Express Product from Glasdon is essentially an item from our catalog which is manufactured to set specifications, and is available with fast processing and shipping included in the product cost.
These products are typically best-selling items from our existing range, supplied with specific color options, fixing options and other supplements as standard.
Our aim is to ship all Express Products within 48 hours of receiving an order, based on standard business days.
What does Express Shipment from Glasdon entail?
Express Shipment is a method of fast delivery, offered for our Express Products range as standard.
We aim to ship all Express Products within 48 hours of an order being confirmed. If your order is placed on a non-business day (typically public holidays & weekends), we will ship your order within 2 business days. This fast method of dispatch ensures your product is sent to you as quickly as possible.
The product price includes shipping, so there are no additional or hidden costs at the checkout.
Please note that if your order includes items which are not part of our Express Shipping range, the delivery method, times and tariffs will revert to standard shipping and Express Shipment times will not apply. Express Orders are limited to one order per customer per day. Express Shipping is not available for shipments to Alaska, Hawaii or the US Protectorates at this time.
For Express Shipping on products not included in the current range, please request a quote.
What types of products are in the Express Range?

Our Express range features a wide variety of products, including but not limited to:
Indoor & Office Recycling Bins
Pet Waste Stations
Life Ring Cabinets
Ash Receptacles
Trash Collection Tools
The range includes our highly popular Fido™ Pet Waste Station, as well as the best-selling C-Thru™ Battery Recycling Tubes in all colors and sizes.
We always strive to meet customer demand and are constantly innovating our product range, so more Express items may be added to this range in future. You can keep up to date with which products are available via Express Shipment, by viewing our complete range here.
How can I tell if I am ordering an Express Product?
All Express Products are named accordingly and feature a banner on the product itself, so you can't miss them!
You should also look out for indicators on the product page and on the cart page when you go to check out. These include: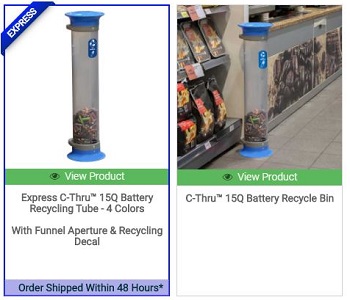 Express Shipping icon and ribbon on the pricing box (right hand side of the product image)
Blue box underneath the pricing box, which states that the Express Shipping offer is valid on that product
When you get through to the cart, an Express Product will default to Express Shipping as the method, with the cost calculated to $0 (if your basket also contains products which aren't available for Express Shipment then this will not apply)
Further terms and conditions are listed in the product description within the features & specifications section.
All Express Products are also available as standard variants where regular shipping costs, times and tariffs apply, so please be sure to select the right product before ordering.
Will my order arrive faster if I order via the Express Shipment method?
Our Express Shipment offer includes faster dispatch from our warehouse in Richmond, Virginia. We will ship your order to you within 48 hours* of receiving it, meaning your order should arrive more quickly than products sent via standard shipping.
The courier methods we use may be the same for both types of shipment, so it really is the processing time that makes all the difference here.
For more information about our Express Range, or to chat with a specialist about shopping online with Glasdon, please contact us via LiveChat today!
Terms and Conditions:
*Express Shipment is available for products in the Express range. Your order will be shipped within 48 business hours of us receiving it. Orders placed on non-business days will be shipped within 2 working days. Applies to orders for Express Shipping products only. Orders are limited to one Express order per customer per day. Orders which include products that are not part of our Express Shipping range will revert to standard shipping times and tariffs. Express Shipping is not available for deliveries to Alaska, Hawaii or the US Protectorates.
Wednesday, October 28, 2020