Foreign object debris (FOD), has the potential to cause millions of dollars' worth of damage, as well as long delays and disruptions.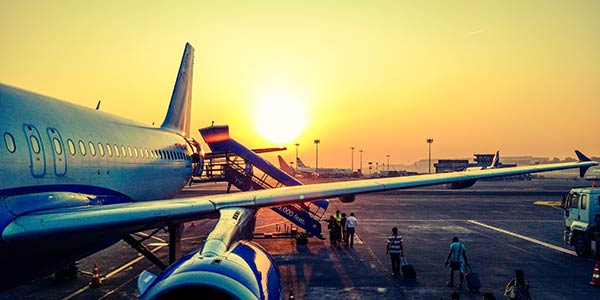 Estimates have found that there's an annual bill of around $4 billion for the aerospace industry from the resulting damage caused by foreign object debris.*
By implementing appropriate, on-site FOD waste-management systems, the potential financial implications, as well as the wider risks to airport personnel, can be significantly minimized.
Broadly speaking, FOD can be classified as any object which could injure staff members, carrier personnel, or damage aircraft and equipment.
Some of the most common contributers to FOD are; rocks, sand, loose vegetation, tools and loose hardware, building materials, paper, paper clips, pens, coins, badges, baggage tags and pieces of luggage - including pieces of clothing/ footwear
Even something as small, and seemingly insignificant, as undisposed litter has the potential to cause huge amounts of damage. A disregarded soda can or candy wrapper may not seem like a big deal to an 875,000 pound, $200 million Boeing 747-400, but such waste has the potential to cause a variety of problems:
How is FOD Detected?
Whether you operate a small private airfield in your hometown, or run one of the world's busiest international airports, dealing with foreign object debris is a concern which effects aviation as a whole – as well as many other fields, of course.
In order to detect FOD, advanced radar technology and human observation is normally the order of the day. Once FOD has been detected, it should be collected and logged by a member of staff, and stored in a dedicated container, usually located near the airport apron.
FOD Airside Effects:
There's a host of airside effects that can result from FOD, including; damaged aircraft engines if ingested, cut aircraft tyres and the obstruction of ground vehicles, propelled debris from jet engines can harm airport personnel/passengers, and debris can also become lodged in an aircraft's components, thus preventing it from operating safely.
FOD Landside Effects:
Landside effects of FOD can also be far-reaching; FOD can result in costly flight delays and cancellations - which could also lose future customers, there can also be schedule disruptions caused by the need to reposition airplanes and crews, as well as the potential liability due to injury and additional work for airport management and staff.
FOD Solutions:
Regardless of which method you use to detect and remove unwanted objects from your airside environment, having a dedicated FOD bin will allow you to dispose of your unwanted debris quickly, efficiently, and before it becomes a hazard which could cause harm or damage.
At Glasdon, we design and manufacture a wide selection of outdoor trash cans, many of which can easily be turned into designated FOD bins. Here's a couple of examples of how our Nexus® City and Topsy™ outdoor trash cans were adapted to become FOD bins:
Our Personalized FOD bins in action:
Topsy Trash Can FOD Personalization:
At Glasdon, most of our outdoor trash cans can easily be turned into dedicated FOD receptacles. Browse our range, and talk to one of our industry experts for more information!
One of our most popular and effective FOD solutions, is the Topsy Trash Can. This unit has been purposely designed for easy emptying, without the need for strenuous lifting - perfect for daily FOD!
Above are just two examples of FOD personalized bins which we offer, but a wide-range of our outdoor recycling bins and outdoor trash cans can easily be converted into FOD bins, here's how...
Using our personalization and branding service, you can add your desired finish to our trash cans – clearly demonstrating the intended use of your trash can, and that it's fit for purpose. Adding personalization to your FOD bins will also increase awareness amongst staff and members of the public within the vicinity of your establishment.
Our personalization service is run by our dedicated in-house graphic design team, and we'll provide you with a free-of-charge illustration of your personalized product. This way, you can see exactly how it will look, before placing an order.
For further guidance on how to approach this particular market, talk to us today, our industry professionals are always on hand to help.
Sources:
*https://www.boeing.com/commercial/aeromagazine/aero_01/textonly/s01txt.html
Thursday, January 31, 2019