No organization is the same, and we recognize that no waste-management scheme is either. That's why we supply a variety of different trash cans that will suit all styles, budgets and requirements. We've answered the most commonly asked questions when it comes to choosing those all-important trash cans.

FAQ: What capacity should I choose?
Our extensive range of trash cans are available with a 9 gallons capacity, all the way up to an huge 96 gallon capacity. Depending on the intended placement of your trash cans, and frequency of emptying, we're sure we have something to suit all. If you're looking for units for outdoor areas with a high volume of traffic - such as public walkways, it's likely you'll require a large capacity unit. For areas with a lower density of passing traffic - such as indoor reception areas, a smaller unit will probably be more suitable.
For large volumes of trash, we recommend: Glasdon Jubilee™ 80G Trash Can
For smaller volumes of trash, we recommend: Cedar Trash Can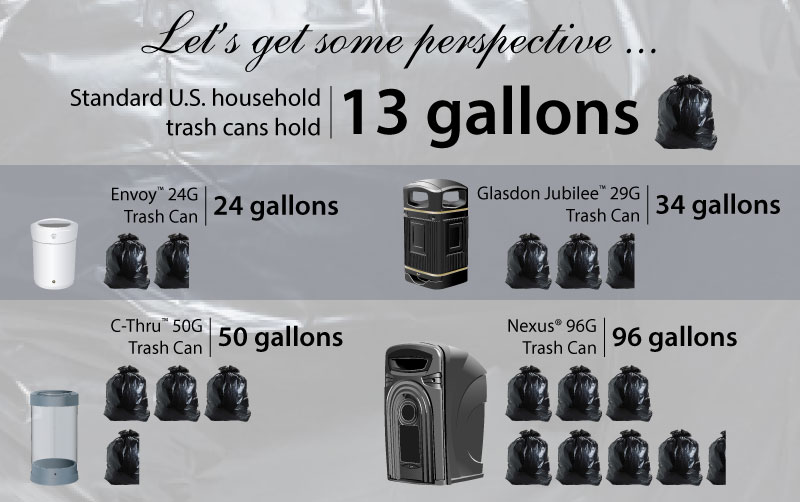 FAQ: Do I need a fixing?
Most of our trash cans are heavy enough to remain stable in normal conditions, because of this, we believe that additional fixings aren't always necessary. However, if adverse weather conditions are anticipated, there are a number of fixing options available. Please see the below diagram to help determine the most suitable fixing for your surface. If you're still a bit unsure, please contact us,and we will be more than happy to advise.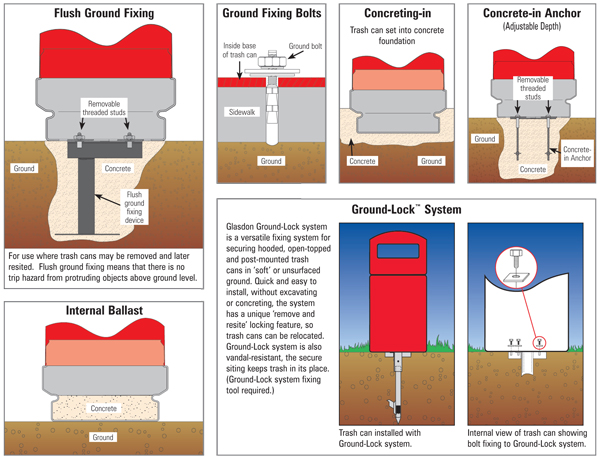 FAQ: How much maintenance does my trash can require?
Our trash cans are constructed from Durapol™, which is a specially designed polymer that requires very little maintenance. Durapol is able to withstand challenging weather conditions and also incorporates UV inhibitors that prevent color degradation, whilst also extending the trash can's functional life. This reduces the costly expenses that are often associated with cleaning, maintaining, and replacing trash cans.
We're extremely confident that our trash cans are produced to the highest of standards, which is why our products undergo rigorous product testing. You can view our product testing videos here.
FAQ: Can I personalize my trash can?
Personalizing our trash cans is a popular choice among our customers as it gives them the freedom to add a personal touch to their waste-management scheme. You are able to add your organization's branding, as-well-as use non-standard colors, to suit your requirements.

View our 5 Step Personalization Guide here
FAQ: Which liner do I need?
Depending on the intended placement of your trash can, we have a number of liner options to choose from.
Our integrated bag holder systems are a popular choice, as they allow plastic bags to be fitted in a tidy and easy manner, whilst ensuring that the aesthetics of the trash can are not compromised.
We also offer zinc-coated steel liners which are most appropriate for use in fire-risk areas. The strong and robust metal liners often include drop-handles to assist with hygienic, easy emptying.
Additionally, our robust plastic liners are most appropriate for use in corrosive environments, as the material will not rust. The durable polyethylene material also absorbs impacts without losing its shape, and will also be lighter in weight than a metal equivalent.
FAQ: What are the benefits of a transparent trash can?
We recognize the need for secure solutions at public events & areas where high security and vigilance is required. Our DHS compliant transparent trash cans are often preferred for large events and transport hubs, as the contents can be easily inspected by law enforcement and protective services.
Transparent trash cans are also beneficial as passing users can quickly identify the waste stream that is being collected, which may help to reduce contamination across your waste management program.
For high-security areas, we recommend our C-Thru 50G Trash Can.
FAQ: What is Firexpire™?
Firexpire is a fire extinguishing plate that can be fitted within the top of a selection of our hooded trash cans. Should a fire break out inside of the container, a special heat-responsive device releases the plate which then seals off the mouth of the liner and deprives the fire of oxygen. The device can then be easily replaced using only a screwdriver to reset the device on site. Please note that the device is designed to be used with metal liners only.
View our demonstration video to see Firexpire in action
FAQ: How well do your trash cans perform at low temperatures?
As part of our quality assurance process, our products go through rigorous product testing methods. Among these tests, the trash cans are subject to both low and high temperatures so we can be confident that they will perform even in the most extreme weather conditions.
If you're in even the slightest of doubt – our experts are here to help so please don't hesitate to get in touch.
P.S Need help choosing a coordinating recycling container? We have another helpful guide for that too!
Tuesday, November 8, 2016