Sustainability and recycling are a priority in the minds of organizations both large and small. Research by Rutgers University* highlights a positive relationship between employee job satisfaction and corporate sustainability. This suggests that employees believe it is important to work for an organization that practices environmental sustainability.
So what exactly are the benefits of office recycling?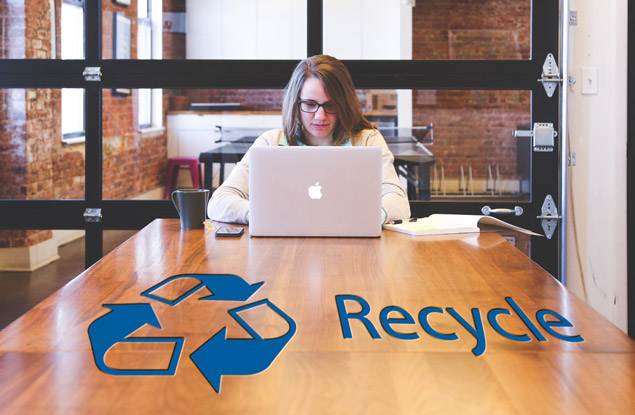 Creates cost-savings
Many organizations underestimate how much their trash is costing them. Implementing a recycling program in your office can help offset the expense of existing costly waste management and disposal methods.
If you have valuable recyclable material such as scrap metal or cardboard, providing dedicated office recycling bins for these waste streams could help you make money where you would previously lose it.
We provide a range of office recycling bins to help you create a successful and coordinated recycling program.
Helps the environment
In the average workplace, approximately 90% of material can be recycled.
Recycling common items found in the office such as paper waste, plastic bottles and aluminum cans minimizes the need to manufacture new materials. This helps us reduce the consumption of energy and resources that are associated with processes of material extraction and generation.
Schemes at work could also begin to ingrain recycling methods in your employees' lives which could encourage them to expand their efforts outside of work.
Boosts employee morale
Employees find pride in working for a company that embodies environmental values whilst encouraging them to do their bit for the environment. This satisfaction can boost employee motivation and evidence from a UCLA-led study has found that companies who voluntary adopt green practices have employees 16% more productive than the average.
Happier employees = lower employee turnover.
You can involve employees in your organization's recycling efforts by asking for their ideas or creating incentives for recycling. Employees will be likely to have greater job morale if their opinion and involvement is valued.
Boosts your brand
Sustainability is often an influential factor for customers. Consumers are continuously seeking to purchase from responsible companies so make sure your commitment to recycling is known by prospective customers. Being vocal about your recycling efforts could win you loyalty from both new and old customers as well as boost your stakeholder relationships.
Job seekers are also attracted to organizations with sustainable practices which could give you access to a greater number of people when it comes to hiring.
Our essential picks for office recycling:
Are you ready to become a greener organization? Speak to us today!
Email us inquiries@glasdon.com
Call us toll free 1-855-874-5273
Live chat with us on our website
Source:
*https://www.netimpact.org/research-and-publications/talent-report-what-workers-want-in-2012