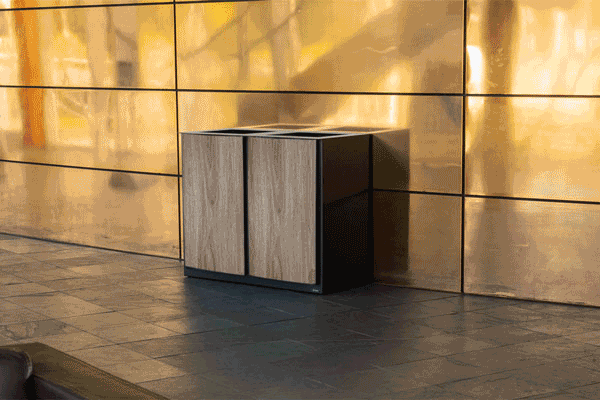 Ensure your brand never goes out of style with the new addition to the Nexus® range.
The Nexus® Style is a premium finish indoor recycling container, and can be customized with a striking vinyl wrap to suit your office or commercial environment.
Ideal for new and modern styled developments, Nexus Style combines a contemporary design, with functionality and strength. This ensures your contemporary, striking commercial recycling containers offer a long-service-life, and require minimal maintenance.
A Vandalex™ door, with an anodized and polished graphite finish, contrasts with an Armortec™ coated dark metallic grey steel frame, for an attractive, modern appearance.
Customize in Style...
Custom designed vinyl wraps can be specified on the door and body of our entire Nexus Style range, which complements all interior décor, and creates a truly personalized finish.
Choose from our stylish collection of wrap finishes to seamlessly blend your custom recycling bins with their surroundings, for a sleek, modern look. Alternatively, create a bold, contrasting aesthetic by personalizing the unit with your company logo and branding.
The Armortec™ coated steel is vandal, corrosion and weather resistant, with the Vandalex™ material ensuring the panels of the bin are strong and durable. Both the body and door are 100% recyclable after their usable life, making the Nexus Style an environmentally friendly, sustainable choice of commercial recycling container.
Available as both a 24G and 48G model, and with the choice to create a duo, trio or quad multi recycling bin, Nexus Style recycling containers feature an open top with optional recycling apertures, available to suit all requirements. Standard recycling graphics sets are also available to help identify the intended use, ensuring minimal risk of cross-contamination.
Here's what JD Villegas, Vice President of Sales at Glasdon, Inc. has to say:
"Our research has highlighted a demand for premium finish, internal recycling bins which are customisable. The Nexus Style has been designed to meet that brief entirely.
Glasdon customers can now not only configure the waste streams according to their needs, but they can also style the exterior of the container to complement the design of their office or commercial environment perfectly."
Browse our full range online...
If you'd like any more information on our Nexus Style range, or any of our other products, why not: Email us inquiries@glasdon.com | Call us Toll Free on 1-855-874-5273 | LiveChat with us on our website?
Tuesday, January 28, 2020