Ocean Spray is the world's leading producer of cranberry beverages and products, headquartered in Lakeville, Massachusetts. We were happy when they chose our C-Thru™ 15Q Battery Recycling Bin for something a little less conventional than recycling their batteries!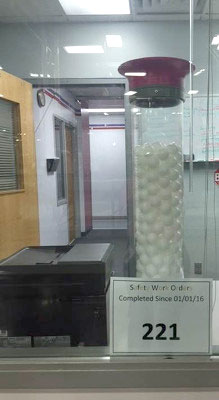 Ocean Spray required a receptacle that provided a visual representation of their department's completed work safety orders. The polycarbonate body and small aperture of our recycling bins provides much versatility and in this case, made the unit perfect for storing small ping pong balls.
Our customer said:
"Thank you! I received my container and I am actually using it to display ping pong balls for safety work orders that have been completed year-to-date. We have enough graphs and charts, so I wanted something that can be more visual. After researching a ton of very expensive "tubes" to place the balls into, this product came up on my Google search. It is perfect! And pink! Every time we eliminate another risk, we add a ball to the tube. We have already almost filled the tube, so I am going to have to track them by month! Thanks for a great product!"
If you'd like to learn more about the C-Thru Battery Recycling Bin or learn how you can personalize any of our products, please speak to us on Live Chat
Alternatively, call us toll free on 1-855-874-5273 or drop us a message inquiries@glasdon.com