An effective waste management program encourages visitors to make use of the trash receptacles, keeping your environment clean, safe, and aesthetically-pleasing. More importantly, an effective waste management initiative will also reduce costs to your company.
Waste reduction can be economically advantageous for companies in numerous ways, such as through reduced purchasing and operating costs, decreased storage costs, and increased recycling revenues.
A WasteWise case study* showed how various commercial, government, and institutional sectors benefitted economically from recycling. Results from a WasteWise case study reported that a New-Jersey based company were able to save $145,562.57 in just one year, as a result of recycling materials, rather than disposing of them as trash.

(Our popular Eco Nexus® 23G, Glasdon Jubilee™ 29G and Nexus® 36G's are all available as trash and recycling combos)
By taking into consideration the following key elements you can boost your recycling rates and reduce costs:
Pair Recycling and Trash Containers Together
One way you can encourage visitors to recycle responsibly is by placing recycling containers and trash receptacles together. A Chicago-based study found a lower recycling accuracy for recycling bins without a nearby trash can. Visitors will be more willing to recycle if recycling units are clearly sited next to general trash cans.
We can provide trash can and recycling container combos that improve the flow of waste diversion without compromising on design.
Use Clear Signage
Visitors are likely to dedicate a fleeting moment of attention to what they're throwing away. Using clear, color-coded signage with minimal text and large decals will make the waste-stream easily identifiable for use. In turn, this will help to increase recycling rates in your environment.

(The large open-top design of the Canyon™ Trash Can makes it easier for trash to be deposited)
Shape and Size Matters
Take into consideration the type of receptacle that you need for your leisure environment. If you have thousands of visitors each day, it would be worthwhile using large-capacity trash receptacles, which can hold a large amount of waste and reduce the frequency of waste hauler pick-ups. Trash cans come in many shapes and sizes, so ensure you choose the best styled trash can to suit your leisure environment.
Open-top trash cans, like our Canyon trash can, would be ideal for high footfall areas where visitors want to quickly dispose of their waste.
Convenience is key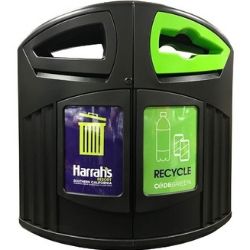 It's likely that visitors will want a quick solution when it comes
to disposing of their trash. Providing a sufficient number of trash, ash and recycling receptacles around your establishment will increase the likelihood of correct waste disposal. Research by KAB observed that as distance between trash cans increased, so did the frequency of dropped garbage.
Add motivational messaging
You can encourage visitors to properly dispose of waste through the use of engaging, motivational messages on your chosen trash receptacle, but don't just take our word for it, check out how Harrah's Resort SoCal personalized our Nexus® 52G to promote their CodeGreen program.
At Glasdon, we offer a variety of trash cans and recycling containers that can be customized with your company logo, branding or motivational messages, through our branding and personalization process. Not only will this increase the likelihood of people using your waste containers for the intended application, but it also acts a great form of additional promotion and recognition for your brand.
To learn more about how our products for leisure can help you create an economic and environmentally beneficial waste management program – please speak to us on LiveChat.
Source:
*https://www.nj.gov/dep/dshw/recycling/wastewise/njwwcasestudy.pdf