Investing in the correct disposal of cigarette butt litter can be beneficial for your business, economy, appearance and the environment... to name just a few positives! There's so much choice when it comes to cigarette receptacles that it can be hard knowing which cigarette receptacle is best for your site.
To help you make the right decision, we've answered all of your questions about choosing a cigarette receptacle.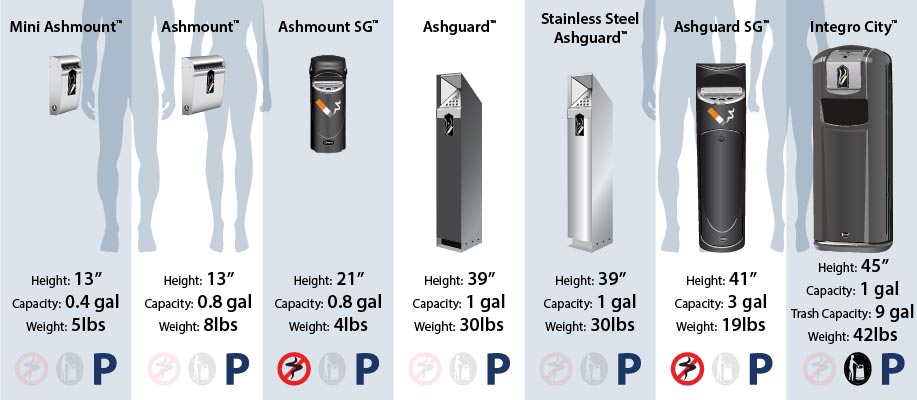 FAQ: What size cigarette butt container do I need?
Ranging from 0.4 gallons to 3 gallon capacities, we are confident that you can find a Glasdon cigarette receptacle to meet your needs. The required size of your cigarette butt container can be determined by various factors including:
how busy the environment is
how frequently the unit will be emptied
how often the ashtray terminal will be used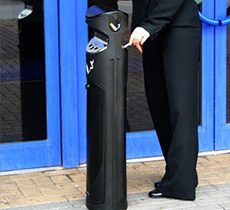 Busy outdoor spaces like downtown areas, sport stadiums and shopping malls will need a larger capacity cigarette receptacle than small office buildings or residential buildings.
For a busy outdoor space, we recommend the Ashguard SG™ free-standing cigarette disposal container. The Ashguard SG holds over 3,000 cigarette butts!
If you are looking for a smaller unit for quieter sites such as outside convenience stores or office buildings, the Ashmount™ is an ideal choice. This wall mounted ashtray provides a suitable smoking solution without taking up valuable floor space.
FAQ: Should I choose a wall-mounted or free-standing ashtray bin?
The Glasdon range of cigarette disposal containers includes ashtrays that can be wall mounted as well as floor standing receptacles. Having a choice between wall mounted or free-standing ashtrays provides flexible siting options to meet your needs.
A wall mounted cigarette receptacle takes up very little space so it is perfect for small areas. Our wall-mounted cigarette units, such as the Mini Ashmount™, can be fixed to a wall or existing post making them suitable for space-restricted areas or building entranceways.
Free-standing smoker receptacles are best suited for busy environments. These can be placed in centralized locations to improve convenience for smokers and encourage them to correctly dispose of used cigarettes. Their floor standing design makes them clearly visible to further encourage users to responsibly dispose of cigarette litter.
FAQ: What material and finish is best for my site?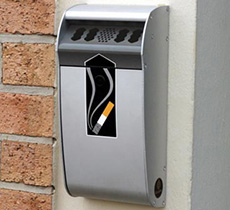 The style of your cigarette butt container is just as important as functionality. An aesthetically-pleasing cigarette bin will encourage smokers to use it. We supply cigarette receptacles constructed in robust Durapol™ polymer or long-lasting steel to offer both style and functionality.
A metal ashtray provides various benefits including robustness and long-service life. Ashguard is available in stainless steel or Armortec™ coated steel whilst the Ashmount and Mini Ashmount feature a silver anodized aluminum frame and steel liner. These metal ashtrays provide exceptional weather and vandal resistance as well as an enhanced quality appearance.
Our Ashmount SG™ and Ashguard SG ashtrays are manufactured from Durapol, a durable polymer that requires minimal maintenance, will not corrode and does not need surface maintenance.
FAQ: How much maintenance is required?
Glasdon cigarette receptacles are low maintenance products. Thanks to their durable construction and vigorous product testing, Glasdon cigarette disposal containers offer a long-service life and require minimal maintenance.
We still recommend planning frequent maintenance inspections to ensure the products are in safe, useable condition at all times.
FAQ: I'm worried about fire risks...what can I do?
All of our smoking control products are designed and vigorously tested to reduce the risk of fire propagation. Glasdon cigarette bins feature small grille openings to prevent the deposit of any waste streams other than cigarette butt litter.
The Ashmount SG™ and Ashguard SG™ are both fitted with SmokeGuard™ technology, indicated by the

symbol in the above key. SmokeGuard is a unique smoke-dampening device located underneath the stubbing grille and within the liner. SmokeGuard minimizes the amount of smoke released to reduce the chance of a fire propagating inside the receptacle in the unlikely event of a fire.
Frequent emptying of cigarette receptacles will also minimize the risk of fire as it ensures the receptacle is not overfilled. This is one of the reasons why it is important to choose the right-size cigarette receptacle for your site.
If you are still worried about fire risks, we recommend creating a designated smoking area and placing instructional signage near to outdoor ashtrays to remind smokers of correct usage and behavior.
FAQ: Can I personalize my cigarette receptacle?
Many of our cigarette disposal containers can be personalized, as indicated by the

symbol in the guide above.
This means you can add a unique touch to your organization's cigarette bins by adding a company logo, branding or message.
We hope we helped answer all of your Cigarette Receptacle related questions. If you require any additional support or advice, please contact one of our friendly advisors today or speak to us on LiveChat!
Tuesday, September 12, 2017