Cigarette butts are the most littered item in the U.S., with the overall littering rate for cigarette butts at a staggering 65% of all U.S. roadway litter*. When carelessly dropped on the ground, cigarette litter can negatively impact the physical appearance and safety of your environment.
To counter the effects of cigarette litter, businesses need to continue to take action. Business owners often have to bear the expense of cleaning up cigarette litter around their site entrances, sidewalks and parking lots.
Not only is cigarette litter unsightly and costly to clean up, it's also a fire hazard. It's important that businesses continue to ensure that health and safety considerations for smoking on their premises remain a top priority for the comfort and safety of employees, customers and visitors.
Creating a safer environment
Although they may be small, improperly discarded cigarette butts can quickly become a fire hazard, which is one of the reasons why correct cigarette disposal is so important.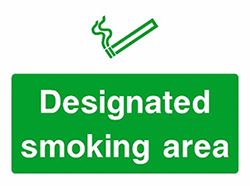 A simple way to reduce this risk is to provide employees or customers with a designated area where they can smoke and safely dispose of ash and cigarette butts in purpose-designed cigarette butt receptacles.
Additional safeguards can be added in the form of smoke dampening devices such as SmokeGuard™.
A selection of Glasdon cigarette receptacles feature SmokeGuard to effectively minimize the risk of a fire propagating throughout the receptacle as well as reducing the amount of smoke released. This innovate features offers improved safety for your smoking area.
Creating a cleaner and more effective smoking area
Choosing the correct cigarette receptacle is key to keeping your site clean of cigarette litter. Cigarette litter is an unsightly matter and can cause the appeal of public spaces, businesses and tourist sites to decline. Make sure your workplace is presentable, clean and safe by creating a designated smoking area.
The free-standing Ashguard SG™ outdoor ashtray is suitable for creating a dedicated smoking area in a recreation area, retail park or hospital. With a slim footprint, this free-standing cigarette receptacle can hold up to 3,500 cigarette butts whilst taking up minimal space, making it an ideal choice for busy environments.
Mini Ashmount™

Holds up to 525 cigarette butts
Wall, post or glass mounting kits available
Vandalex™ anodised aluminum grille
Quick and easy to install

Find out more
Ashguard SG™

Holds up to 3,500 cigarette butts
SmokeGuard smoke dampening device
Robust and weather resistant Durapol construction
Security cables to prevent un-authorized removal of door
Slim, floor-mounted design for high foot traffic areas

Find out more
If you would like to find out more how to create a clean, safe smoking area with our cigarette units – please get in touch today or speak to us on LiveChat!
Source:
Thursday, August 17, 2017