We all know that happy customers, are returning customers. But how do you ensure you're doing the most you can to keep your customers satisfied? Here's a few steps you can take to really get the most out of your gas station...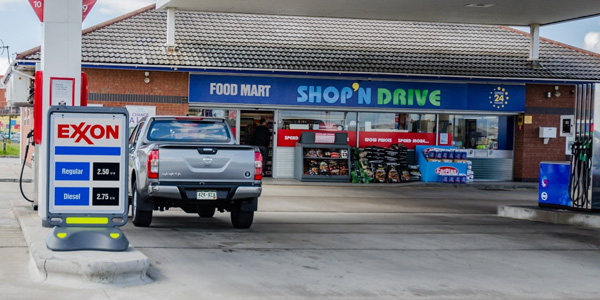 1. Go the extra mile for customers
Go the extra mile by improving the convenience of cleanliness for your customers as they're topping up their gas.
Siting trash cans next to gas pumps allows customers to get rid of any small, unwanted waste from their car before continuing with their journey. The Community™ 29 Gallon Trash Can is a slim trash can, making it ideal for siting on narrow gas pump islands.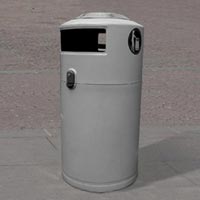 But don't go thinking this trash can is style over substance, Community also has a large holding capacity, reducing the need for frequent emptying.
A small gesture, such as offering disposable gloves or paper towels, can go a long way. Did you know that gas pump handles are considered to be highly contaminated with germs? In fact, one study proposes that gas pumps have an average of 11,000 times more bacteria than a household toilet seat*.
Why not offer paper towels and gloves for your customers to use? They can then throw these in the trash can before leaving, ensuring they've had a quick, convenient, clean (and happy!) visit to your station.
2. Maintain dispensers and gas pumps
Regularly check that gas pumps are working correctly and ensure the nozzles, covers and handles are clean and free-from damage.
Presenting operational signage in clearly visible locations will also provide customers with confidence that you are a gas station who cares.
In today's growing digital world, many customers will want to pay by card for ease, and speed. Help keep this process simple by ensuring the receipt roll is always fully-stocked, and the card machine is in full working order.
Having a well-lit gas station will also allow customers to feel secure when visiting your site in the dark. So be sure to carry out regular lighting checks, and replace any broken or burnt-out lights when needed.
3. Use effective brand imagery and outside store advertising
Outdoor store advertising is a great way to reinforce your brand image and encourage additional consumer purchases. Posters are an enduringly successful means of advertising, which are both simple and effective in attracting customers who are already close to the point-of-purchase...a real win/win!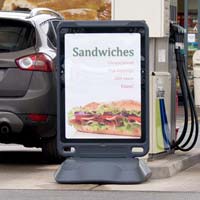 The Advocate™ Poster Display Stand is the ideal choice for gas stations. Its robust Durapol® construction can withstand hurricane-force winds, as well as accidental knocks (from pedestrians or cars!). Advocate can hold, large 30x40 inch posters to ensure outstanding visual impact, and is available in a one-sided, two-sided, or wall-mounted model. You can easily remove and change your posters to display different information, be this seasonal offers, store information, or in-store promotions.
With the Advocate poster display stand, you can encourage customers to make additional purchases, whilst also enhancing your brand image.
4. Scrub up on instore cleanliness
Whether your gas station is small or large, it's important to keep it clean.
According to various studies, customers value cleanliness as one of the most important factors of store atmospherics.**
One way you can really up your instore cleanliness is by having recycling bins to encourage visitors to recycle responsibly. We offer outdoor recycling bins & containers in a variety of sizes, which suit both large and small stores, alike. You can also choose the waste-streams best suited to your store (whether that's paper, cans and bottles, or even pizza boxes...) and add a special touch with personalization.
If your gas station offers a dining area for customers, we recommend placing organic waste containers in areas where food is prepared or consumed. This will increase recycling, whilst also diverting food waste away from landfill.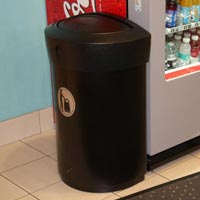 Cup recycling bins are also an ideal choice for those drivers with a penchant for on-the-go drinks, by giving them a place to discard their used disposable cups.
If your convenience store is restricted on space, a trash can and recycling bin combo could be the perfect solution.
You can also place small, indoor trash cans near the door or check-out counter to enable customers to quickly throw away any small waste items they may have. The half circle Envoy™ 29 Gallon Trash Can is suitable for placing against a wall, counter, or even a drinks machine, inside your convenience store.
5. Enhance external store and forecourt appearance
Gas stations are more than just a stop-off point, they're becoming a destination in their own right. So, why not use this opportunity to freshen up your gas station, making it an aesthetically pleasing and enticing rest point for motorists?
The appearance of the gas station forecourt and store exterior is just as important as instore cleanliness. A clean and well-maintained gas station will invite customers to take care of your environment and provide them with a lasting good impression of your petrol forecourt.
Siting trash cans outside the storefront, and next to fuel pumps, will encourage customers to keep your site clean, whilst also providing them with the opportunity to dispose of any small waste items from their car. In turn, this will minimize the risk of those small waste items from being littered on highways and roadsides.
6. Create welcoming gas station walkways
Make sure pedestrian paths are clearly distinguished from vehicular areas.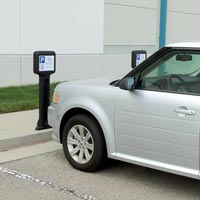 Bollards and marker posts, such as Infomaster™, are useful for marking instructions and clearly separating pedestrian zones from vehicular areas to improve pedestrian safety.
Keep the pathway clear from trash and make sure the ground is in a safe and suitable condition. If any repairs are required, make sure it's fixed as soon as possible to prevent injury to employees or customers.
And Finally...
If visitors are taking their four-legged friends on a long journey, it may also be worthwhile creating a pet-friendly area outside your gas station. Provide customers with a small area to rest and walk their pet pooch, along with a water station to keep their furry friends hydrated for the journey ahead. Don't forget to also add some pet waste stations so pet-owners can clean up after their dogs, too!
For more information, Email us inquiries@glasdon.com | Call us Toll Free on 1-855-874-5273 | LiveChat with us on our website
Sources:
*http://www.nacsonline.com/YourBusiness/FuelsReports/2015/Documents/2015-NACS-Fuels-Report_full.pdf
**http://csgcares.com/wp-content/uploads/2014/05/Image-Enhancement-Value-of-Clean.pdf