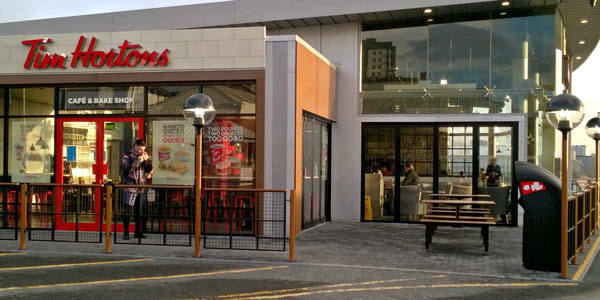 Best known for fresh coffee and donuts here in the U.S., Tim Hortons Inc have expanded their offer across the Atlantic with the recent addition of a Drive-Thru in the UK.
With little time ahead of the launch, the UK team approached Glasdon for some quick solutions to help them effectively manage trash on their new site.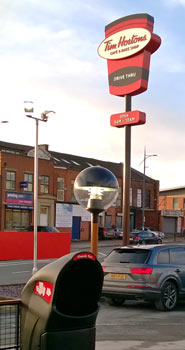 The
Combo Delta™ Large Aperture Trash Can
, which has been designed specifically for fast food chains, was selected as the ideal solution to garbage collection at the restaurant. Located by the exits, entrances and the outdoor eating area, it is conveniently placed for customers to dispose of their fast food waste before leaving the site. The container features a large open funnel aperture with a target molded inside to encourage diners to make use of the container. The curved, sloping hood helps funnel the waste into the sack, whilst providing weather protection. As the site is a drive-thru, the trash can also works well for customers who want to dispose of their garbage without leaving their vehicle. A solid black Combo trash can with red and white decals was chosen to match the restaurant's exterior. A red and white 'thank you' decal was also added onto the aperture opening. The Combo Delta is available in four colors with decal options which can be designed to fit with the branding of any fast food drive-thru, shopping mall or theme park. Find out more about the
Combo Delta Trash Can
Quality and Quick Service
With 729 diners spanning 14 states*, Tim Hortons is pretty well established alongside fellow brands Burger King and Popeyes - all owned by one of the largest quick-service companies in the country - Restaurant Brands International Inc**.
With many years of experience working directly with the world's largest fast-food chains, Glasdon offer a wide range of products that are ideal for the quick-service restaurant industry.
Download our Quick Service Restaurant Brochure here.
We understand that your brand is important to your business, which is why Glasdon also offer a full personalization service. We've designed many of our products with personalization in mind so that you can add graphics, logos or campaign messaging that's in line with your goals.
Contact us directly or talk to our friendly team via our Live Chat today.

*https://locations.timhortons.com/us.html
**http://www.rbi.com/