Radford University is a comprehensive public university located in the State of Virginia. The university has frequently received national recognition for many of its academic programs, as well as its sustainability initiatives.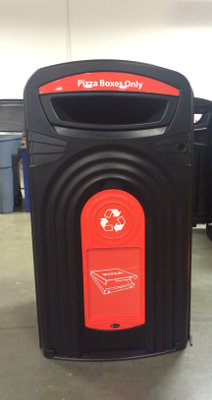 Customized Nexus 96G Recycling Bin with non-standard pizza box decals
The university is well known for its strong faculty/student bonds and continuously strives to find opportunities to get involved. The University recognized that their current recycling bins were not large enough so we came up with a solution to help encourage their students to continue recycling. It was decided that our Nexus® 96G Recycling Bins were the ideal choice for the university as they are especially suited to collect large volumes of waste in communal areas and can be personalized to cater for a non-standard waste stream such as pizza boxes.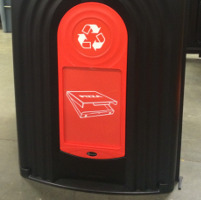 Close up of custom-made pizza box decal
The units were placed in the dining areas of Dalton Hall to help promote pizza box recycling among students and faculty. The Nexus 96G offers bright, customizable decals to provide users with a clear and visible recycling point as well as discourage any cross-contamination across their current recycling program.
We're happy we could work with one of the 'Top Green Colleges in the Nation' and help to introduce a pizza box recycling program into the university.
If you'd like to learn more about our outdoor recycling bins or recycling containers for schools, we're here to help.
Call us toll free 1-855- 874-5273
Live chat with us on our website
Design characters of Nexus® 96G Recycling Bins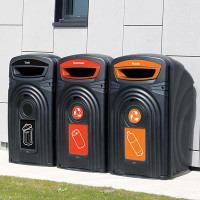 Ideal for collecting large volumes of waste
Curved top prevents waste being left on top
Several streams available
Customizable
Thursday, November 3, 2016