Designed with modern environments in mind, Electra steel recycling bins are the perfect choice if you're looking to create a sleek, stylish and practical waste management program.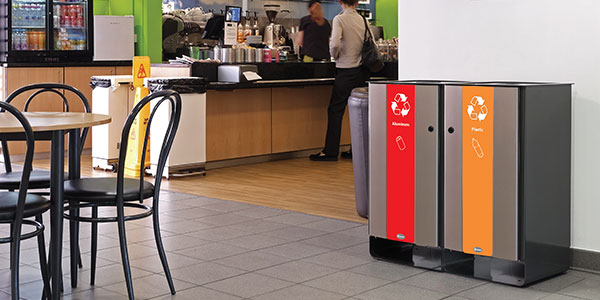 Introducing Electra™ Steel Recycling Bins
Electra metal recycling containers are a contemporary development of the classic metal recycling bin, and perfectly finish off the aesthetics of many modern locations.
Furthermore, choosing Electra steel recycling bins will ensure your local environment strikes the perfect balance between eye-catching aesthetics, and long-lasting durability. Electra products are manufactured from an Armortec® coated steel framework and 100% recyclable Vandalex® body panels, making an environmentally friendly, practical and attractive choice of steel recycling containers. Construction from such robust materials will also help to provide a long-service life, as-well-as ensuring corrosion and maintenance is kept to a minimum.
Designed with modern environments in mind...
Both the Electra 48 Gallon Duo Recycling Station, and the Electra 48 Gallon Trio Recycling Station, are ideally suited to a wide-range of locations; colleges, retail/commercial developments, transport hubs and architectural business spaces, to name but a few. Flexible siting options are also available for Electra recycling stations; including a free-standing kit, or a concrete fixing-kit.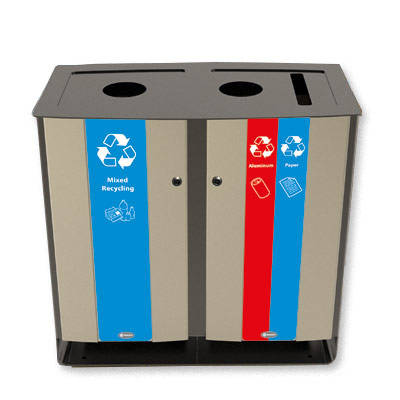 Furthermore, Electra recycling containers are supplied as standard without any decals, allowing you to style the unit however you wish - so taking full advantage of our extensive range of recycling decals is an absolute must!
Placing color-coded, full-length decals on the front and rear panels is a great way to help passers-by easily identify the intended waste stream of the bin. You can also opt for screen-printed apertures to reinforce the color scheme of your recycling program, as-well-as encouraging participation.
If preferred, you can also choose between vinyl cut recycling decals or decals applied to the top of the metal recycling containers. With a choice between bright & bold or minimal decals, you can develop the best visual solution for your company.
You can even personalize Electra steel recycling bins with your company colors, logos and branding. Our team of friendly Graphic Designers offer a free in-house visualization service, allowing you to see exactly how your design will look before committing to an order.
Here's a few more of Electra's key features:
Internal drip tray system (optional) is specially designed to prevent any spillage or pooling around the base of the bin.
Constructed from a tough Armotec coated steel framework, this station is built to last.
A generous 48 gallon capacity allows Electra to gather large quantities of waste, in a concise, unique and compact unit.
A variety of available aperture options allow you to tailor Electra to meet your exacting needs.
Simple, open-top design allows this station to be easily accessible, and will encourage usage.
As always, our dedicated team of in-house professionals are here to assist in any way we can, talk to us today for more information!