For many of us, trips to the gas station are a frequent part of modern life – and there's no denying they're huge business across the US. Our nation is estimated to home over 111,000* such establishments, serving millions of customers each week.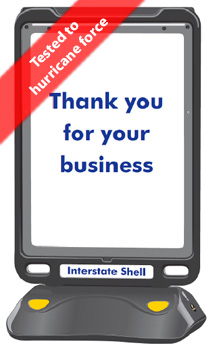 But here's a thought...
Modern gas stations offer so much more than a place to simply fill up your car, so how do you ensure your customers know exactly what's on offer at your gas station?
The Advocate™ Forecourt Poster Stand...
The Advocate Forecourt Poster Stand is a versatile outdoor sign holder, perfect for advertising your products and/or services to a wide audience.
Advocate is a forecourt poster stand which effortlessly strikes the perfect balance between striking, eye-catching aesthetics, and practical, long-term durability.
This large, free-standing outdoor sign holder holds a 30" (width) x 40" (height) poster, which instantly produces an outstanding visual impact. This is an especially unique selling point for gas stations, as even if customers don't stop at your station, they will still be able to see your sign from passing by.
Furthermore, any posters which are inserted into the Advocate Forecourt Poster Stand are super simple to change, providing a cost-effective and simple way to advertise your products and services.
Wind tunnel testing to hurricane force...
On your gas station forecourt, Advocate could well experience some pretty extreme weather conditions. Therefore, it may interest you to know that the large, curved ballast base of the Advocate Forecourt Poster Stand provides high levels of stability, and can be filled with sand/water to minimize the risk of the unit blowing over (please note: the base must be ballasted with 170lbs of sand/water, in order to withstand high wind speeds).
Not convinced? See it for yourself, here's how Advocate holds up in 80mph winds:
We recently worked with Huffman Oil Company, Inc.
At Glasdon, we always like to go that extra mile (if you'll pardon the pun) to assist our customers in making sure they're making the right choice for their establishment.
Whether this be online, through our free visualization process, or in person – we always endeavour to demonstrate the true capabilities of our diverse range of products.
Recently, we worked with the Huffman Oil Company, Inc., where we displayed exactly how, and where, the Advocate Forecourt Poster Stand could make a difference to their establishment.
What were they looking for?
Huffman Oil Company, Inc. were looking for a solution to stop people parking on the no-parking area right in front of their store.
This could have been done by a simple cone, or no parking sign...but we showed how Advocate could offer a much more innovative solution.
With the white, hatched, no-parking lines being all too often ignored, Advocate immediately stops people from pulling up in this area. This is super important, as the hatched area provides clear access to the store, crucial for customer convenience.
Additionally, inside this Huff's store is a pizza vendor, serving hot food to those who need a little sustenance. The pizza vendor chose to use one of Advocate's 30" x 40" poster display sides to advertise the tasty treats they have on offer...so it's proving to be a pretty neat, multi-purpose unit.
For more information, Email us inquiries@glasdon.com | Call us Toll Free on 1-855-874-5273 | LiveChat with us on our website
Sources:
*https://www.statista.com/statistics/525107/number-of-gasoline-stations-in-the-united-states/