From flexible, impact-absorbing bollards to sign-carrying and retroreflective marker posts, the Glasdon range of bollards features a variety of styles and sizes to suit traffic calming schemes for any road safety application.
Keep reading to find out all you need to know about the Glasdon range of Bollards.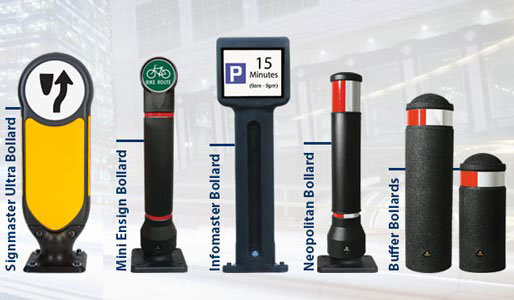 Flexible Bollards Self-Right After Impact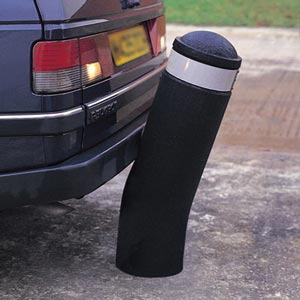 Self-righting, flexible bollards are an important feature within traffic calming schemes. Designed to withstand vehicle impacts before returning to their original shape, flexible bollards act as traffic guidance devices, to help mark out traffic routes and create vehicle buffers within parking lots and confined areas.
Flexible bollards are designed to bend under impact or vehicle nudges. Once released, these self-righting bollards will return upright, without any loss to their original shape or form. Glasdon flexible bollards are traffic-friendly, enabling road safety with minimal risk of physical threat to moving (or stationary) vehicles.
Popular uses for the Glasdon range of flexible bollards include lane delineation projects, waymarking in parking lots, bicycle lane designations and entrance-marking at toll-booths.
Variety of Sign Face Options Guide the Way


To help keep vehicle drivers, pedestrians, bicyclists and other road users aware of safety precautions and regulations, we offer a wide selection of sign face options for our sign-carrier bollards.
Ideal when marking bicycle routes within residential areas and bicycle-friendly zones, the Mini-Ensign™ Bollard features a circular dual-sided sign face with a 5.9" diameter. The rear and front-facing signage panels help road users to differentiate between lanes and adhere to safety precautions when approaching from either side of the bollard.
To help enforce regulations including lane restrictions, turning signals and stop junctions, as well as to make road users aware of divided highways and pedestrian crossings, the Signmaster Ultra™ Bollard is the perfect solution. Featuring a large 11.8" sign face with a range of graphic options, this self-righting bollard optimizes performance, altering road users to restrictions and regulations to increase safety when on the move.

To display parking restrictions such as opening times, disabled parking, entrances and exits, select the Infomaster™ Bollard. Featuring a dual-sided sign face which is designed to be visible through a car windshield, this bollard is perfect for alerting users to parking lot regulations. We can provide custom signage with parking lot-specific information for the Infomaster Bollard through our personalization service - simply contact us to discuss your requirements.
High-Quality Materials Drive Performance
All Glasdon products are constructed using high-quality materials to ensure an excellent service life - and our range of bollards is no exception. We use a selection of rigorously tested, low maintenance materials for all of our road and traffic bollards in order to achieve optimal standards of performance.
Impactapol™ Material:
A flexible, low maintenance material with excellent recovery performance.
Offers reduced maintenance costs in vulnerable locations by continuing to perform to high standards, even after repeated impacts.
Corrosion-free and weather resistant properties make this suitable for year-round, outdoor use.
Used for a selection of our self-righting plastic bollards including the Neopolitan™ Bollard, the Mini-Ensign Bollard and the Neopolitan Signhead Bollard.
Used as the base of the Signmaster Ultra Bollard, to provide anti-twist rebound flexibility.
Durapol™ Material
A specially formulated polymer designed to withstand extreme temperatures.
Combines excellent strength with low maintenance due to weather and vandal resistant properties.
Is self-colored, will not rust or chip and never needs painting.
Used for both the Infomaster Bollard, the Signmaster Bollard body and is a popular choice for our range of trash cans and recycling containers.
100% Recycled Rubber
Used solely for the Buffer™ Bollard, this rubber material is made from 100% recycled rubber car tires for an eco-friendly road safety solution.
Provides excellent flexibility upon vehicle impact.
Reinforced with a galvanized steel inner tube for enhanced resilience.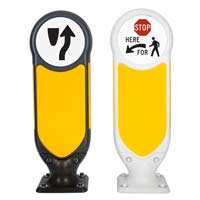 Retroreflective Properties Enhance Visibility
For increased visibility, be it day or night, many of our bollards feature retroreflective options.
Retroreflective properties such as side reflectors and reflective banding enable the bollards to be seen when dark, by reflecting the light emitted from any surrounding sources including street lamps, car headlights and bicycle lights.
The Signmaster Ultra Bollard offers high-grade reflectivity as a result of optional retroreflective patches on both the front and sides of the bollard. These highly visible reflectors are perfect for non-illuminated schemes within urban and suburban areas.
Many of our bollards also feature recessed areas with the option to add retroreflective or decorative banding. The Neopolitan Bollard features a 5.9" top reflector, available in either red, white or red and white to provide reflectivity for approaching vehicles, bicyclists and crossing pedestrians.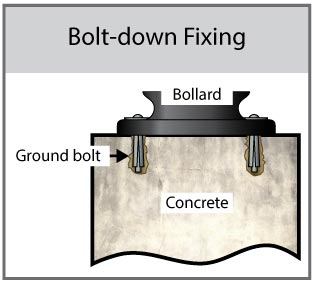 Secure Fixings Keep Bollards Parked
To keep road safety bollards safely in place and provide a secure fixing, we offer surface mounted bolt-down fixings for all of our road safety bollards.
Bolt-down fixings ensure maximum safety combined with operator ease, as they allow the bollard to be securely installed in under 8 minutes (on existing concrete sub-surfaces). This provides a permanent fixing point with a flush-ground fixing, which eliminates trip hazards if the bollard is removed.
For more information about the Glasdon range of Bollards, or for help finding the right road safety solution for you, please browse our website or contact us today.